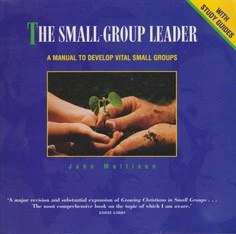 The Small Group Leader – A Manual to Develop Vital Small Groups (with study guides) is a major revision and substantial expansion of the author's previous best-seller on small groups, Growing Christians in Small Groups.
Originally published January 1997, by Scripture Union Publishing. 208 pages
Download this book for free (2 MB). Click HERE
View the Table of Contents. Click HERE

Overview
John Mallison is a world authority on small group ministry. In The Small Group Leader he brings together the results of many years of study, practical experience and teaching, including the latest developments (at the time of writing) from the small-group movement in Australia and around the world.
This large book (208 large-format pages) was regarded by Eddie Gibbs, international speaker on Church Leadership and Renewal, USA, as 'the most comprehensive and valuable manual in the field of small groups to be written to date'.
In his Preface to the book, the author says:
"Essentially this is a 'how-to' book, emerging out of years of practical experience. The aim is not only to help readers catch a vision of the scope and possibilities of small groups, but to provide some down-to-earth, proven guidelines to get them started and help develop their maximum potential".
Eddie Gibbs writes in his foreword to the book:
"Some books are worth the price we pay for a one time reading but, having read them once, we happily leave them to gather dust. John Mallison's book represents far greater value for money. Its contents cannot be assimilated at one sitting. It is the kind of volume that the busy Christian leader will want to keep within reach . . . I would like to see The Small Group Leader on the bookshelf of every small-group leader".
Key Features
Some key features of this outstanding resource:
The author's largest and most comprehensive work on small-group ministry at the time of writing
Bible-based and Christ-centred approach
A wealth of practical advice and helpful resources
Attractive and well-organised presentation
Study guide for each chapter
Comprehensive index
Small Group Outcomes
Use The Small Group Leader to learn more about:
how to develop groups that are vital and effective
how to use small groups to meet a wide variety of needs and interests
how to develop effective small group leadership skills
how to use small groups to create caring, nurturing relationships
how to study the Bible in groups in a way that relates the message to every-day life
how to develop and enrich the prayer life of a group
how to equip groups for reaching out to others in evangelism and service
how to get groups started and when and how to bring a group to an end.
Commendations
'Vintage Mallison. His best yet . . . A must for ministers and Christian leaders who want qualitative as well as quantitative church growth.'
Bishop Ray Smith, George's River Region, Anglican Diocese of Sydney
'Abounds with practical advice, illustrations, and a detailed index that makes it ideal as a constant reference book for pastors and small-group coordinators.'
Professor Brian V Hill, School of Education, Murdoch University, WA
'A goldmine of principles, insights, and resources that have been field-tested around the world.'
The Rev Dr Bill Brown, Syndal Baptist Church, Vic
'This valuable manual weaves together an eminently practical number of skills which enable leaders to bring groups alive.'
Reverend Tony Doherty, Dean, St Mary's Cathedral, Sydney
'I sincerely hope that all ministers and leaders will not only have this book on their shelves but will use it in their congregations.'
John E Mavor, Secretary, National Mission and Evangelism, Uniting Church in Australia
'An indispensable resource for every group leader and program coordinator.'
The Rev Peter Corney, Senior minister, St Hillary's, Kew, Vic. Director, Institute for Contemporary Christian Leadership
'I wish such an invaluable resource had been available to me as a young pastor 30 years ago.'
Dr Barry Chant, President, Tabor College Inc
'Insightful and creative, with a good blend of biblical, historical and practical insights.'
Ross Clifford, Baptist minister, President & Lecturer in Theology, Morling College, NSW
Printed Non-English Versions – Availability
KOREAN: from Scripture Union, Korea
Songpa P.O. Box 134. Seoul, 138-600. Republic of Korea
Tel: +82 2 2202 0091
Fax: +82 2 3432 9191
Email: [email protected]
Website: www.su.or.kr
FRENCH: from Animation et Gestion. Des Groups Dans L'Eglise. Farel Editions.
Email: [email protected]
POLISH: email: [email protected]
The Model Small Group-Leader Training Program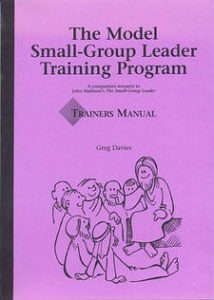 This study guide/training manual by Greg Davies accompanies The Small Group Leader. There are no non-English versions of this manual.